關于設計腕兒 About us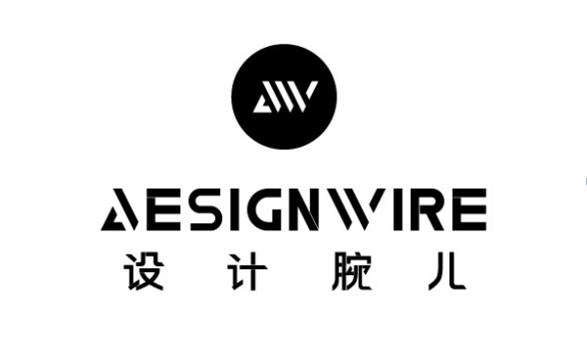 \ Wechat Public Platform \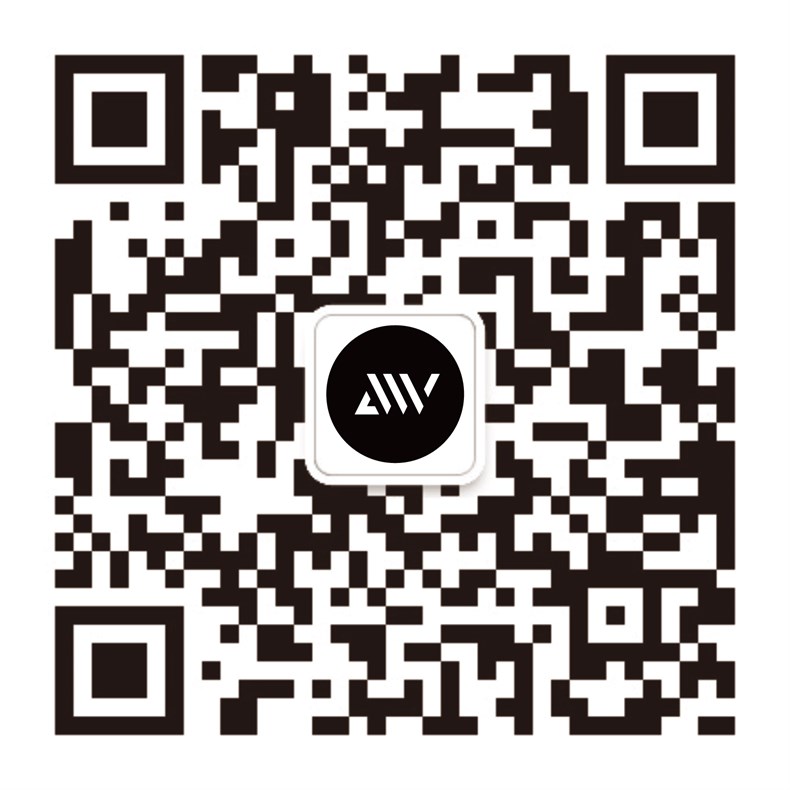 作為中國最具影響力和敏銳度的設計新媒體平臺,Designwire以首發全球頂級室內空間案例為主,用權威的編輯思想和態度解讀設計,核心讀者為開發商、室內設計師、酒店管理集團和高端業主等。
2014年創立至今,關注人數60萬讀者 ,平均每篇文章瀏覽率達5萬多,最高10萬+,與同類主流平面媒體、門戶網站、移動互聯對比,Designwire無疑是轉發和活躍最高設計類媒體。
Designwire與中糧、天恒、萬科、金茂、梵天、綠地、保利等等地產開發商集團展開戰略合作,最專業的視角透過設計語言解讀居住設計理念和發展趨勢;并且每年成功引薦上億的設計項目為設計師會員提供服務等,協助國內外設計大師進行實地項目的設計落地,精準對接最優質的設計師資源。
Precise Delivery

We are the first to showcase the most recent high quality interior design projects in the world, by working directly with their design firms in long lasting collaborative relationships.
High Activeness

Since its establishment in October 2014, Designwire has attracted more than 600,000 users, often reaching more than 50,000 views per article and even topping records as high as 100,000 views per article. It has undoubtedly stood out as the top design media in terms of article forwarding and activeness, even compared against other mainstream platforms like print media, internet portals, mobile internet, etc.
Brands We Serve

Designwire has established cooperative relationships with international firms, such as Greenland Group,CHIINA MINMETALS CORPORATION, Park Hyatt, Aman Resorts, Prada, Miu Miu, ABB, Issey Miyake and Mercedes-Benz among others.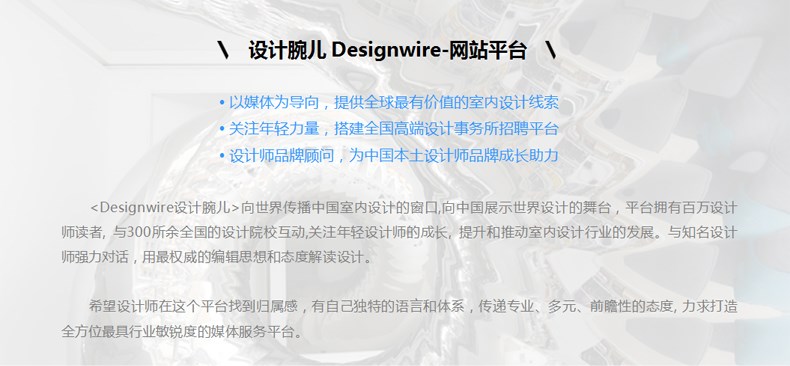 \ Website Presentation \
? We harness the power of media to explore incredible value-added interior design leads around the world.
? We follow young talents with interest to create a nationwide recruitment platform for high-end design firms.
? We act as a brand consultancy for architects; always prompt to assist Chinese native designers to grow their prestige.
Designwire is a window that highlights Chinese interior design works to the world while showcasing international masterpieces to China. It has evolved into a platform with millions of architect readers by interacting on a regular basis with over 300 national design institutions and universities. At Designwire, we support and enhance the development of young architects, driving the interior design industry forward. As such, we emphasize dialogue with renowned architects to express the ideas, concepts and feelings behind every design we feature through precise editorial thoughts. By means of a professional, multicultural and proactive attitude, we strive to provide a home for architects, a place with a sense of belonging and a unique linguistic and systematic approach, delivering the most sensitive multi-dimensional media platform service in the industry.
\ 官網 Website www.skvv.tw
\ 郵箱 Email [email protected]
\ 電話 Tel 010-68391213